It goes without saying that brick-and-mortar setups are bound by location, and depending on your product or service, this could be key to your revenue. But even if you think that your business 'needs' to stay local, expanding globally could allow you to expand into new areas of your business you may never have thought of.
Lowering Costs
Because e-commerce tends to carry far lower costs than brick-and-mortar setups, adding an online component to your existing business doesn't need to be a high-risk investment and in fact, in most cases would be a far better choice than opening another storefront if that's something that you feel you could easily lose money on.
Why is it lower cost to run an online store? Here are a few important points to note:
Sales on Advertising
Digital advertising is inexpensive compared to traditional channels and can be more easily adjusted to fit varying budgets. You can use a blend of traditional and digital to market your entire operation, or even switch to primarily digital and save a lot of money.
Better Targeting & More Personalization
Digital marketing and selling models such as those that use e-commerce may allow you to gather, synthesize and use customer information and data more easily than traditional channels. This is especially the case when you consider retention activities like customer loyalty programs – essentially you can track their buying habits more carefully which offers the opportunity to target marketing and promotional efforts in a more accurate way.
Easily Scale and Grow
One key benefit of running a business online is that you can easily optimize and scale your budget in accordance with all other aspects of the business, and it's not too difficult to scale your business should you see your customer base expand and grow.
A more Pleasant Customer Experience
For many tech-savvy individuals who are used to making online purchases, they may not know that for a lot of people who are used to it, it's just a smoother and more comfortable experience for many. Mainly because a customer does not need to leave the comfort of their own home.
Passive Earnings
If you can keep your shop open 24-7 and you are able to expand your offerings to a global audience, this means that you have the potential to create a passive income stream – that is, your revenue doesn't necessarily rely on great salespeople or opening hours. When you and your customers are no longer restricted by logistics such as location and time of day, you have plenty of opportunities to boost revenue in new ways.
Here at GetMeOnline we use Shopify and WooCommerce to create all our online Stores. Based on your business needs we will suggest which one is the best fit for you and your business. We not only design amazing looking online stores, we create online stores that work flawlessly. While constantly using the latest software and tools to always keep you one step ahead.
Also If you already have a website but no online store. Don't worry we can implement an online store to your website. So if you're ready to take the leap and get online then contact us today to discuss what we can do for you.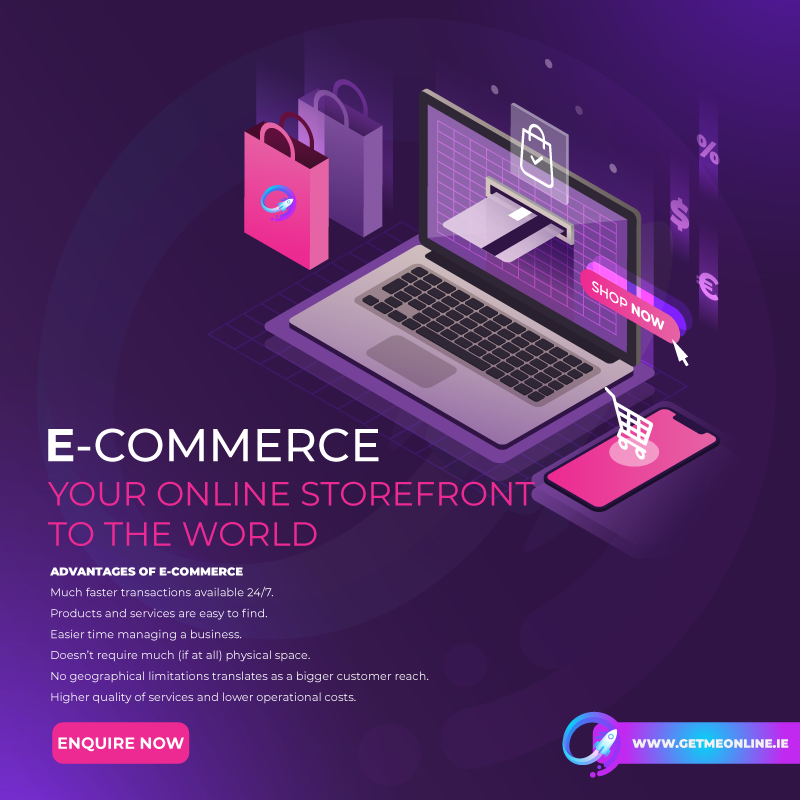 MAIN ADVANTAGES OF HAVING AN ONLINE SHOP
Much faster transactions available 24/7.
Products and services are easy to find.
Easier time managing a business.
Doesn't require much (if at all) physical space.
No geographical limitations translates as a bigger customer reach.
Higher quality of services and lower operational costs.

CONTACT US TODAY TO DISCUSS HOW YOU CAN GET ONLINE AND START MAKING SALES.